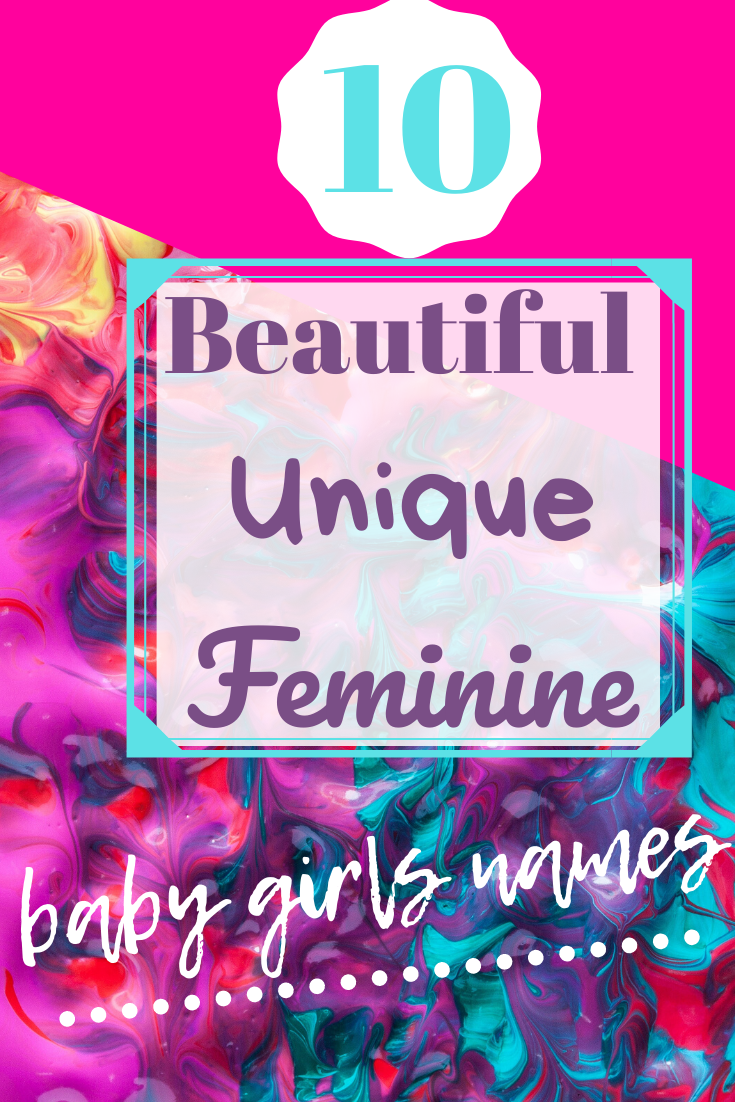 10 Feminine and Unique Baby Names
Naming your baby is a big job, and a hard one! There are tons and tons of baby names, and it seems like everyone has an opinion on which name is best for your little one!
If you're like me, you want something pretty, unique, and feminine for your sweet baby girl. I have always been fascinated with baby names (I remember receiving a baby names book for Christmas when I was 11 or 12!) and I have always gravitated towards names that are different but beautiful. Growing up, I hated my name because I felt like it was so…masculine. Lindsey just never struck me as being very girlie, and I wanted my daughters to have names that were feminine, but that could be shortened with nicknames if they wanted.
Looking for something different? Check out this list of baby names, too!
Check out this list below, I hope you find one you love!
---
Eleanora
I love this spin on the name Eleanor! It's pretty, soft, and feminine, and less overused than the popular Eleanor. It can be shortened to Ellie, Elle, Ella or Nora if you're a nickname-lover like myself.
Camila
This name is of Italian origin, and means "perfect." I mean, come on!! It's a gorgeous name, an with a beautiful meaning for your baby girl! It can be shortened to Cami or Mila for a nickname. This name is becoming more popular with the rising fame of singer Camila Cabello.
Eliana
This is my daughter's name, and I chose it for the meaning! It is a Hebrew name meaning "God has answered" which meant a lot to me since she was conceived through fertility treatments. She has been the answer to my prayers, and I LOVE her name! We shorten it to Ellie, though she refers to herself as "Ana." There are many different spellings, including Elliana, Ellianna and Elianna.
Annaliese
My other daughter's name – also picked for it's special meaning! It is also a Hebrew name, and means "Grace or devoted to God" according to sheknows.com. We call her Annie, though others have called her Anna before. There are many spellings of this name as well, with the most common spelling in the United States being Annalise (#429 on the Social Security Administration's 2018 list of most popular baby names).
Estelle
Meaning "star," this Latin baby name is pretty and feminine. It has such a royal sound to it, and reminds me of a high-class woman!
Lydia
This was on my list of names for my last baby! This is a Greek baby name that means "from Lydia, Greece." It's short, simple, and pretty. I love that there aren't many variations of the name, so there shouldn't be any confusion on how to say or spell the name as the child grows up.
Laila/Layla
Laila is an Arabic name meaning "night." The most popular spelling in the United States in 2018 was "Layla," with other spellings being Laila, Lailah, and Laylah.
Ariella
This name is one of my favorites on the list! I know a few people with this name, and they are adorable and sweet little girls! It is a Hebrew name meaning "Lion of God." This name is meant for a sweet but strong little girl!
Cecilia
Finally, Cecilia! This is a name of Latin origin that means "blind to one own's beauty." This name is totally underrated. I love that it can be shortened to CeCe (and I have a soft spot for this name because it was Jim and Pam's baby's name on The Office!)
---
There are endless names and spellings out there, but the one thing every name on this list has in common is that they're pretty and girlie. Are there other names that should have made the list?? Let me know below in the comments!