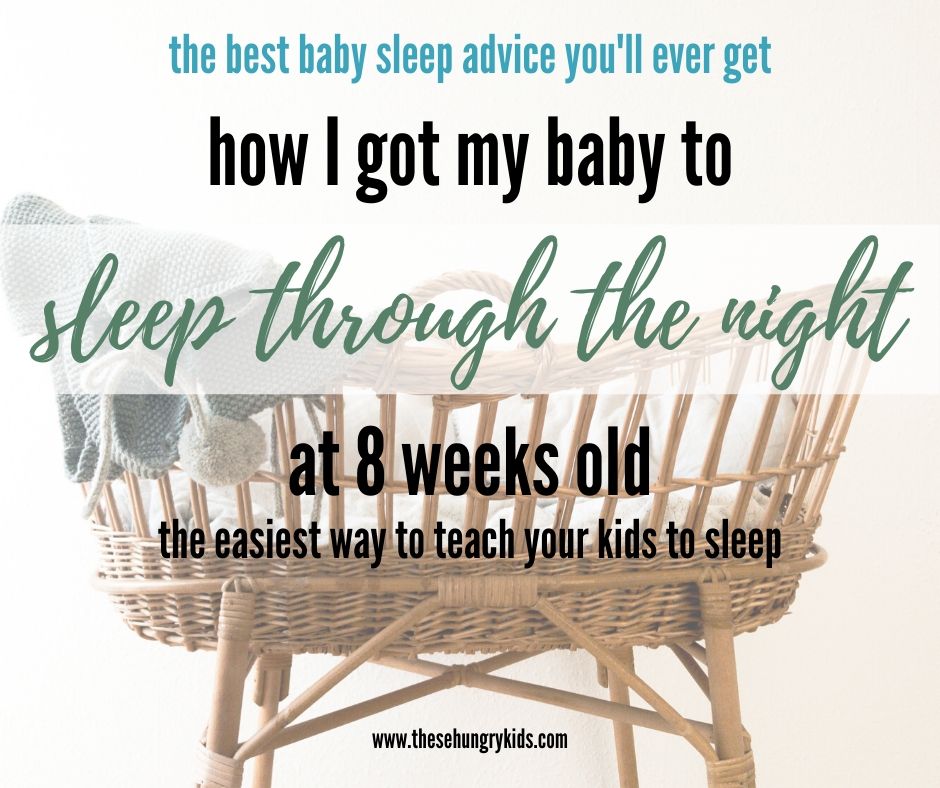 How to Get Your Baby To Sleep Through the Night
If you're here, it's because you are exhausted and want to sleep through the night, or because you are terrified of what sleep will be like when your new baby arrives. 
Let me tell you…I did not know this advice when my oldest was born. I just thought, "when she's tired, she'll sleep! I can read her cues! I'm not going to fret about bedtime!"
This attitude backfired. HARD.
When she was 6 months old I started a new job where I had to work some night shifts.
I was exhausted. And part of the problem was that she was 6 months old and still up to nurse 4-6 times PER NIGHT. 
As much as I loved seeing her sweet face at 2am, I couldn't sustain this lack of sleep thing anymore, and decided if I couldn't be on a consistent schedule, then she needed to.
With her, we ended up doing the Ferber method, which I was super against until I had no choice. It worked beautifully for us, though.
If you aren't familiar with the Ferber method of sleep training, it's cry-it-out in timed intervals. Meaning we let her cry for three minutes, went in and consoled her, let her cry for five minutes, went and consoled her, ten minutes, etc. until she finally fell asleep. I wouldn't breastfeed until she had been crying for an hour.
It was terrible, yes. It felt really really cruel. But guess what?
It took ONE night, and she's slept 12-13 hours straight every night since (she's over 2 years old now!). 
And, she even ASKS to go to bed when she's tired. She LOVES bed. Sometimes when I get her up from bedtime or naptime she says in her sweet, 2 year old voice, "no mama, come back later! I laying down and getting rest!" 
With my second baby, I wanted to have good habits from the start. At one of my first pediatrician appointments with her, the nurse practitioner said to me,
"Start a consistent bedtime routine
now,
and she will learn that sleep is to follow."
I thought, "interesting…she'll learn that when this routine starts, next comes bed, and then comes sleep."
You GUYS — it was THAT EASY!!!
This post contains affiliate links, meaning if a purchase is made using these links I may receive a small commission at no additional cost to you. As an Amazon affiliate, I earn from qualifying purchases. There is never an obligation to buy, and I only recommend products that I know and love. These purchases help keep These Hungry Kids up and running. Thank you!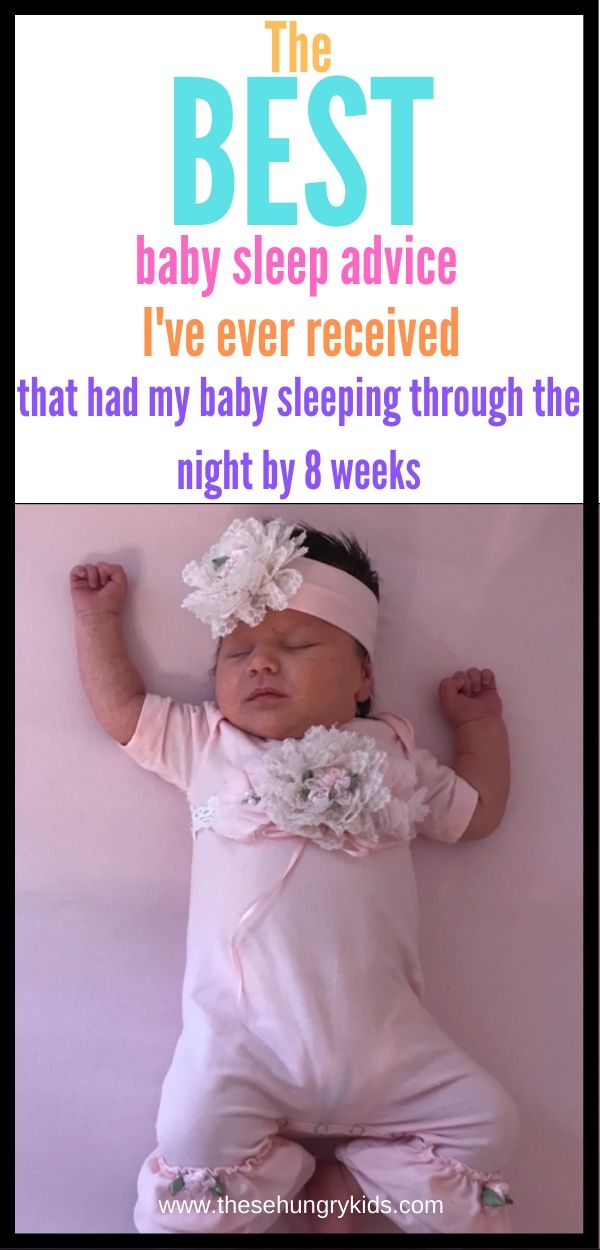 By 8 weeks old, she was sleeping 6-8 hours straight, waking to breastfeed, and then sleeping another 4 hours! She's 10 months old now, and sleeps 12-13 hours each and every night without waking.
I was shocked. If I had known this when my oldest, Ellie, was born, it would have saved me a LOT of stress and tears.
Now, we aren't immune to sleep regressions, she has had nights here and there where she's been restless. However, the majority of the time she is in bed by 7pm and wakes up at 8am! 
Also, when reading this post, keep in mind that babies typically don't sleep through the night for the first few months. According to this article from Stanford Children's Hospital, most infants don't start sleeping through the night until they are 3 months old, or 12 to 13 pounds. 
I know your cousin's best friend's hairdresser's baby slept through the night at 2 days old, but that is an anomaly, and definitely not the norm.
However, establishing good habits early can help your baby sleep through the night much much easier and sooner than if there are no sleep habits.
A consistent bedtime routine is the KEY to getting your baby to sleep through the night
Bedtime routines look a little different for each family, but here's an example of ours:
6:45 PM – The baby starts getting fussy. We bring her upstairs, change her diaper, put on her Owlet Smart Sock and put her into pajamas (check out my full review of the Owlet Smart Sock here.
7PM – Put her into a sleep sack or swaddle. Turn off all lights, turn on sound machine, and rock baby while nursing or feeding a bottle.
7:15 PM – Lay the baby down in the crib (or bassinet) *DROWSY BUT AWAKE.* Put in a pacifier, turn on "fishies" (I'll explain what that is below), say I love yous, and shut the door.
She usually wakes up sometime between 8-9 AM!
The routine can vary greatly from family to family, and it really does NOT matter what the routine entails as long as it is the same every single night. It should also start at the same time every night!
Here's a few ideas of things that may be a part of your bedtime routine:
Bath

Lullabies

Books

Music

Rocking or swaying

Swaddling

A bottle

Sound machine

Change of clothes

Change diaper
For us, the biggest things that let my kids know it is bedtime are the noise machine, swaddle/sleep sack, and the "fishies."
Noise Machine
I ended up purchasing one of these when my oldest was a few months old. It made a HUGE difference!!
Not only does it drown out background noise, but when we turn it on, I can see my kids eyes getting heavier. When they hear it, they immediately start settling down!
It's like their little brains go quiet as soon as it turns on. 
I also have one that I keep in the car or on the stroller when they're little. It's great when we're out and about when they're newborns and need a nap. 
I've recommended this portable one to many friends who have LOVED it!
Swaddles/Sleep Sacks
Swaddles are great until your infant can roll over, and then they aren't safe to use anymore. 
I love these velcro ones from SwaddleMe on Amazon. Not only are they way easier to figure out than a blanket, but when you're trying to break your infant of swaddling, you can let them sleep with one arm out for a few days and then the other arm afterwards. That way they don't completely startle themselves awake, and it lets them adjust slowly to having their arms free. 
I always hated swaddling with a blanket once they got a little bigger because I was worried it would come unraveled while I was sleeping and they would get tangled in it. The velcro ones gave me some peace of mind because they're harder to unravel and use less fabric. 
Once my kids grew out of swaddles, I started using sleep sacks. 
According to the American Academy of Pediatrics (AAP), infants should not use blankets until they are over 1 years old. Sleep sacks give them the warmth of a blanket or swaddle, but still allow your baby to move their arms and legs. 
My kids sleep better when they're in warm pajamas or a sleep sack, so I love these ones from Carter's. They are super snug and warm!
"Fishies"
I buy these for almost everyone I know. This is one of my favorite products ever!!
The Baby Einstein Crib Aquarium plays lullabies or white noise for your baby, and has little aquatic creatures that move up and down or side to side. 
There is an option to have it light up or stay dark. If you choose to have it light up, the lights slowly fade as the music dims. 
There is a remote so you can turn it on from afar, or a big, orange star button on the front that will also activate it.
I turn these on for my kids every night, and they sleepily fall into a trance watching the sea creatures move to the lullabies.
If they wake up in the middle of the night, they turn their "fishies" on and fall back to sleep. 
The only downside: they burn through batteries pretty quickly. It makes my husband crazy, but it's worth it to have them sleep through the night!
Establishing a Bedtime Routine
This is where you and your partner need to get on the same page.
Sit down together, and figure out what you both would like to include in a bedtime routine! Your routine may change as the baby gets older, so if story time before bed doesn't feel right when your baby is a week old, it may feel right when they are a year old.
My advice is to start simple, and write the routine down for reference!

Pick a time to start the bedtime routine. The ideal bedtime for your baby is likely earlier than you'd expect. I've always found 6:30-7:30pm to be the sweet spot for bedtime.
Weird as it may sound, the later my kids go to bed, the earlier they wake up! Sometimes their little brains get overstimulated when they are over tired and it is harder for them to fall and stay asleep.
Key Point: Put your baby down in their bed when they are drowsy but awake.
If this is the first time you're hearing of this, I promise it won't be your last.
This is a common piece of advice you'll find in parenting books, pediatrician's offices, or amongst well-intended strangers.
And there's a reason everyone recommends this: you want your baby to learn to fall asleep without being touched! 
And this starts when they are INFANTS!
Now, I am in NO way telling you that your baby should never sleep on your arms or chest. I let both of my babies do that from time to time, and I cherish that time with them.
However, you should be laying them down when drowsy but awake more often than not. 
I know SO. MANY. PEOPLE. that let their baby fall asleep in their arms before every sleep, and it caused a LOT of problems later. They ended up having to do intensive sleep training, hire sleep consultants, or letting their baby sleep in bed with them so they, too, could get some rest. And even despite all of those efforts, some of my friends still can't get their kids to sleep through the night. 
It's hard to put a sleepy baby down, but you'll be thankful later!
And like I said, it's OK to let them sleep in your arms here and there, but try not to let it become a habit.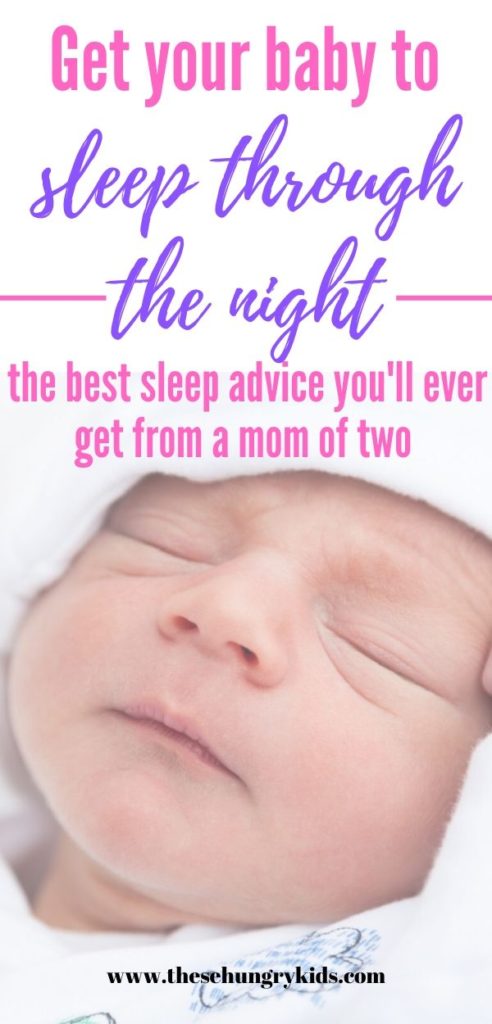 Sleep is such a controversial topic amongst moms, so you should always do what is right for you and your family. However, following the tips above when your baby is an infant should make your experience easier, happier, and quicker than if you wait until the baby is older.
Establishing a consistent bedtime routine will make it much much easier for your infant to fall asleep and sleep through the night, so start early!
I hope this post answered your questions – and maybe gave you some good pointers!
Good luck and sweet dreams!
Have you joined my email list, or followed me on social media yet?!
If you haven't already, scroll to the bottom of my post to subscribe via email. I won't spam you, but I'll send emails to let you know about new and exciting things here at These Hungry Kids. I only email a few times per month, and you can unsubscribe at any point.
Check me out on Facebook and Pinterest, too! Join my community of other parents, and stay in the know with what's new!
Hey!! Have you heard about my new Ultimate Birth Prep Bundle?
It's a 13 page booklet that will help you prep for the big day! It includes:
A hospital and postpartum bag checklist
Labor affirmations to get you through the toughest parts of delivery
A baby naming worksheet
As a labor and delivery nurse and a mama to two, I want to give my mommy-to-be readers extra tools to get ready for their big moment!
And, drumroll please…
IT'S COMPLETELY FREE!!
Click the image below or in the sidebar to download your Ultimate Birth Prep Bundle!
You won't want to miss this — available for a limited time only!